Biography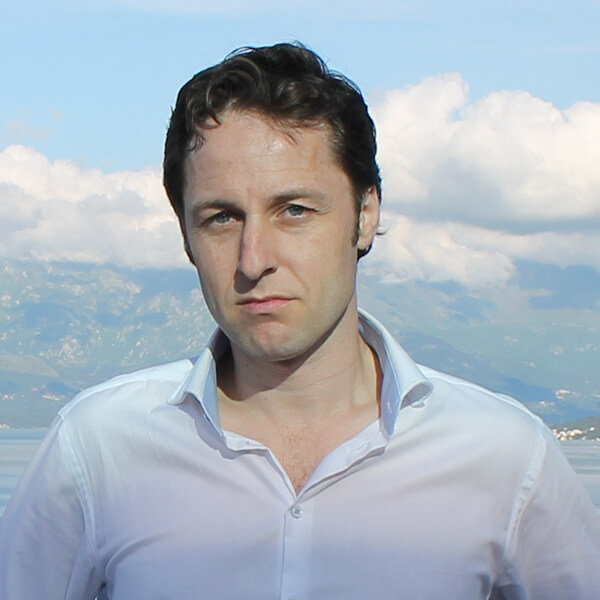 Roland Pangrati
Born
Galati, Romania, 1974

Education
1994 - 1999
University of Art, Bucharest


Urban Decorative Art
2013
Roland Pangrati, "Roots and Burgeons", sgraffito, Viva Park, Galati
Past Solo Exhibitions
2019
May 18 - June 12
Roland Pangrati, ReSonance, European Event: Night of Museums 2019
'Dunarea de Jos' University - Hall of the Lost Steps
2019
April 25 - May 18
Roland Pangrati, ReSonance, 'Nicolae Mantu' Art Gallery
2011
Roland Pangrati, "Trophy", painting, "V.A. Urechia" Library, Galati
2011
Roland Pangrati, "Inexistent Knight", paintings, Metropolis Center, Bucharest
2010
Roland Pangrati, "Behind those eyes", sculpture, Bellagio Club, Constanta
2009
Roland Pangrati, "Caryatid", sculptures, Le Gaga Club, Bucharest
2008
Roland Pangrati, "Giants ", sculptures, Leon Center, Cluj
2002
Roland Pangrati, "Inverse Emotion", paintings, Shadows Club, Galati
2001
Roland Pangrati, "Renascence Experience",paintings,University of Art, Bucharest
Past Group Exhibition
2019
"Waltz of Danube in Colors", Visual Art Museum - Plain Air Painting Contest
June 5 -25, Galati
"Summer Salon of Artists", Nicolae Mantu Art Gallery, Galati
"Spring Salon of Artists", Nicolae Mantu Art Gallery, Galati
2018
"Winter Salon of Artists", Nicolae Mantu Art Gallery, Galati
"Autumn Salon of Artists", Nicolae Mantu Art Gallery, Galati
"Summer Salon of Artists", Nicolae Mantu Art Gallery, Galati
"Spring Salon of Artists", Nicolae Mantu Art Gallery, Galati
1998
"Art Fair", Visual Art Museum, Galati
Public Colections, Museums
Visual Art Museum, Galati
---
SUMMARY
Roland Pangrati is born in Galati, Romania, in 1974. He graduated from University of Art from Bucharest in 1999
In 2013, he made the urban artwork "Roots and Burgeons" in the Viva Park, Galati City, in sgraffito technique.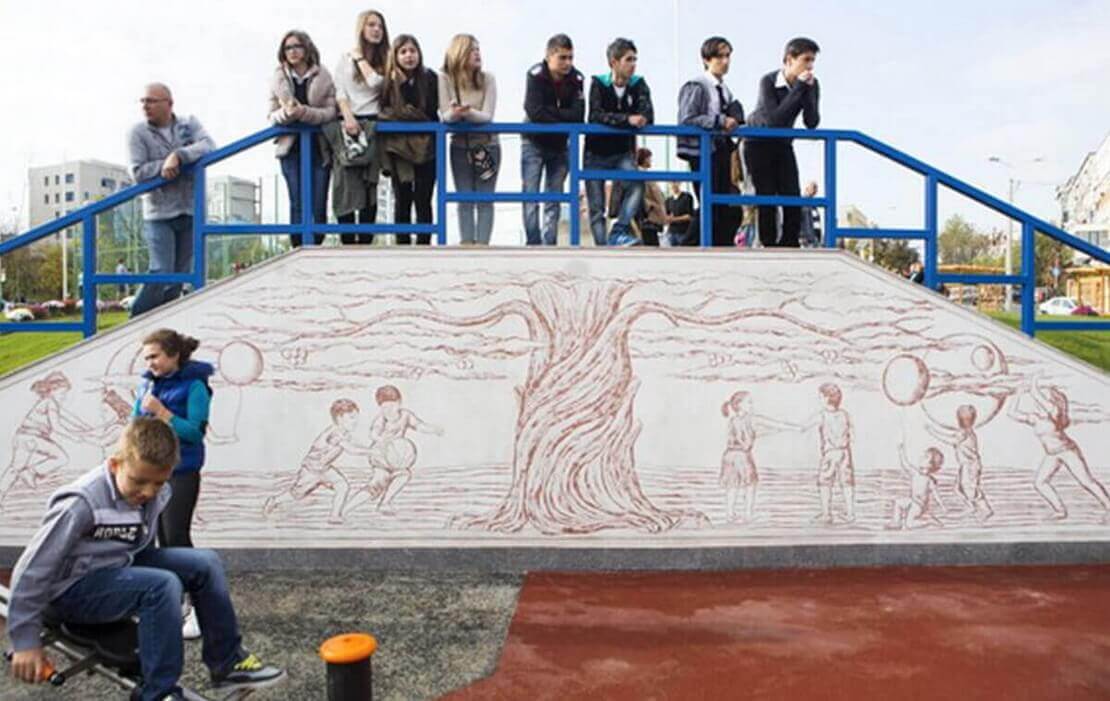 Roots and Burgeons, urban art, sgraffito, Roland Pangrati 2011
"The roots from the tree represent the community of the city, and the children playing under the branches are the burgeons, they means hope and future. The close symbols are the sun and the moon, they tells us that we are part from an accessible universe; when you look up you can dream about anything!" Marius Stan, Mayor of Galati City.
In 2011, his painting "Trophy" is chose to be on the cover of Luxury Edition of the Book about "Otelu-Galati" football team, "Otelu-Galati, Champion of Romania 2010-2011" wrote by Cristian Socianu.
He exhibit in Metropolis Center, Bucharest, in 2011, his solo exhibition, "Inexistent Knight". His art talks about things that exist only because our eyes obsession to imagine it.
"Unfortunately, we do not know how to live with the things around us. They absorb us in their existence, and we forget our human way to be. We should learn how to win our existence." Roland Pangrati
Roland Pangrati has painted 100 square meters painting on the selling, inspired from Gianbattista Tiepollo paintings, and also his permanent sculptures "Giants" and "Caryatid" are exhibit in Le Gaga Club, Bucharest (from 2009), Bellagio Club, Mamaia (from 2010), Leon Centre Cluj (from 2010).
Roland Pangrati painted several mural paintings inside corporation headquarter (WBC Conference Room, Galati) and different private aria. Also, he painted the selling from the Textile Department from the University of Art from Bucharest (1999).
Roland Pangrati has exhibited in Visual Art Museum from Galati (1998) and in all the group exhibitions in University of Art from Bucharest between 1994-1999.